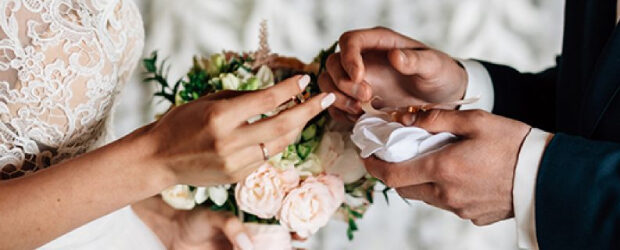 Celebrating love
"The matrimonial covenant, by which a man and a woman establish between themselves a partnership of the whole of life, is by its nature ordered toward the good of the spouses and the procreation and education of offspring; this covenant between baptized persons has been raised by Christ the Lord to the dignity of a sacrament." (Catechism of the Catholic Church 1601)
Marriage Preparation in Our Parish
Call ((02) 9773 9065) the Parish Office and ask for an appointment with the priest or before booking the church or function hall for the wedding.
Preparing For a Catholic Wedding
Give at least six months' notice to the officiating priest. Couples will be recommended to attend a Marriage Preparation Program. Sometimes people who have not been to Church for a while can be apprehensive about approaching the Church for a wedding. Since marriage can be a time of rediscovering one's faith and making a new start, you should not hesitate to discuss your situation with the priest.
Marrying a Non-Catholic
Permission can be given for a Catholic to marry someone who is not a Catholic, provided that the Catholic promises to safeguard his/her own Catholic faith and to do all in his/her power to have the children of the marriage baptised and brought up as Catholic. The partner who is not a Catholic is not required to make any promises but is informed of the expectations the Church has of the Catholic partner.
Here are some answers to common questions about Marriage that will help you better understand this significant act of faith.
Please click on the link HERE.
Marriage support
Family planning
Family planning
Counselling
Annulment